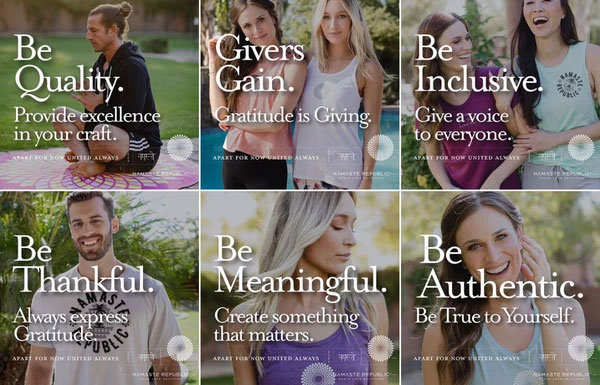 Namaste Republic is building a movement around gratitude… and we are looking for the leaders of tomorrow. The demand has created an environment of growth. An environment where building a great team is vital. An environment where doing whatever it takes to spread gratitude and create happy customers is necessary.
Our goal is to Build A Great Team!
WE DON'T HIRE "EMPLOYEES."
We're a team of founders, each of us fired up about the vision we get to pursue, and thankful we get to make it happen together.
We're looking for humble, focused, team players with a founder's mindset — leaders who have that rare blend of personal humility and intense professional will to share gratitude globally. If that sounds like you, contact one of our founders to join our team.
"Here's to the crazy ones. The misfits. The rebels. The troublemakers. The round pegs in the square holes. The ones who see things differently. They're not fond of rules. And they have no respect for the status quo. You can quote them, disagree with them, glorify or vilify them. About the only thing you can't do is ignore them. Because they change things. They push the human race forward. And while some may see them as the crazy ones, we see genius. Because the people who are crazy enough to think they can change the world, are the ones who do." – Rob Siltanen, Apple, Think Differently
Contact Us to Share you Interest.
At Namaste Republic, we are committed to providing an environment of mutual respect where equal employment opportunities are available to all applicants and teammates without regard to race, color, religion, sex, pregnancy (including childbirth, lactation and related medical conditions), national origin, age, physical and mental disability, marital status, sexual orientation, gender identity, gender expression, genetic information (including characteristics and testing), military and veteran status, and any other characteristic protected by applicable law. Namaste Republic believes that diversity and inclusion among our teammates is critical to our success as a global company, and we seek to recruit, develop and retain the most talented people from a diverse candidate pool.