We are Purveyors of Happiness! In the uncertainty and complexity of today's world, a few leaders decided to stand up and to build a different kind of brand. A self-fulfilling mindfulness education company called "Namaste Republic focused on Peace, Love, and Gratitude." After studying leadership and happiness for nearly a decade, the brand was developed on Gratitude, the purest path to Happiness.
Our leadership has developed this training over the last 15 years in their search to master mindfulness. They have visited over 90 countries and completed programs at Oxford Leadership, Harvard, Berkeley, Penn, Yale, and the Int'l Practitioners of Holistic Medicine. They have also learned from mentors such as a a former NAVY Seal, MMA Fighter, Bush Person, Buddhist Monk, Bali Shaman, and a Spiritual Energy Healer. All of this so Namaste Republic could create the best online training for mindfulness ever assembled. The brand is a self-fulling sustainable clothing to continue our mission to share mindfulness globally.
Namaste – I bow to the divine in you.
Republic – A group with a certain equality between its members.
The brand is developed around peace, love, and gratitude. The keys to opening up happiness. Our brand promise is to connect people to their happy place, to provide a brand were we impact our users with impactful messaging, committing people to spread happiness and driving a global message of peace, love, and gratitude.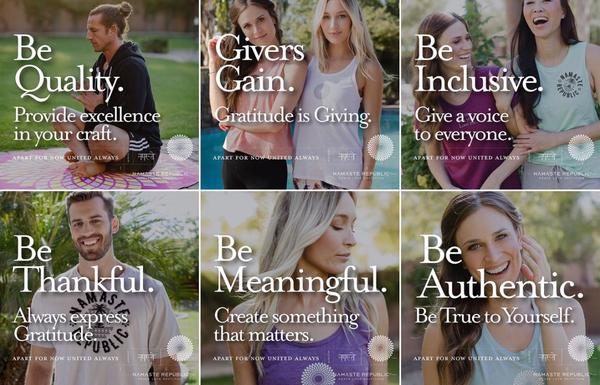 Our purpose:
Raise human consciousness through mindfulness.
Our vision:
World peace, one mind at a time.
Our values:
Quality – seek excellence in craft
Givers Gain – gratitude is giving
Inclusive – give a voice to everyone
Thankful – always express gratitude
Meaningful – create something that matters
Authentic – be true to self
We hope for you to join the Namaste Republic as we have big plans to impact the world with gratitude. In the first 3 years of operation, we will offset Carbon, creating a Net Carbon Zero or Net Carbon Negative company and we will use only recycled materials for our products. We will support worthy non-political causes to make this world a better place, as gratitude is the attitude to change the world. Join our mailing list, donate to one of our causes, and enjoy the ride.
Our Founders
Aaron Bare > FOUNDER / CEO
Aaron is CEO of Namaste Republic, an exponential Conscious Capitalism & Pending B-Corp mindfulness education company with a goal to create happiness through our message sharing love, peace, and gratitude. Aaron decided after several successful exits of technology companies to focus on happiness and create a brand with his trusted business partner Russ that would change the world one mind at a time.
Aaron Bare is a former Management Consultant turned entrepreneur and facilitator, who spends a lot of his time facilitating Global 100 Companies traveling to innovative cities like Shanghai, Tel Aviv, London, Singapore, & San Francisco to learn from leaders, organizations & companies creating exponential change. Aaron is author of "Reimagining Innovation," & a cookbook called "The Crockbook." He is also working on a Positive Psychology Kids Book Series with his daughter called "The Butterfly Effect." Aaron has an MBA from Thunderbird School of Global Management, an MA from Indiana University, and BS with Honors from Indiana Institute of Technology.
Aaron has been recognized as an Entrepreneur in a variety of ways:
Arizona 40 under 40 Leaders
Arizona 35 under 35 Entrepreneurs
Webby
Telly
Addy
Grammy
Launched #1 App in App Store for 20 weeks
Created a community of 9 million visitors per week
Developed Facebook following of 1.5 million+
Closed 10,000 gym memberships in a week
Developed over 400 websites
Developed over 30 applications
Created dozens of award-winning marketing campaigns
Formerly ran daily TV Show (Jobing TV)
Executive Producer of Award-Winning Documentary (The University)
Won NJEA Graphic Design Award (Best Graphic Design Advertisement)
Wrote books (Bare Selling and Reimagining Innovation), cookbook (the Crockbook and Crockables)
Created Short Movie (Donuts)
Creator of Entrepreneurship Education for ASU Startup School, ASU Bioinformatics, Arizona Commerce Authority Accelerator, Herozona, Hyper Island, WDHB, Kaos Pilot, and Thunderbird School of Global Management.
RUSS WALL > FOUNDER / CCO
Over thirty years of award winning CPG integrated branding, marketing, and customer journey experience.
Russ has over 30 years experience in the marketing & design industry. A graduate of Arizona State University with a BFA in Design, Russ has worked in the Phoenix area as Art Director for America West Airlines, Innovative Communications, Arizona Highways Magazine, Snow World Magazine and Principal of his own design firm Squeeze, Inc. Russ has been founder and CMO for Spring44 Distilling and founder and Chief Creative Officer with Concept2Completion, a full service agency and business accelerator company. His creative specialties are brand development, corporate identity, publication design, inbound marketing, website development, digital & social media strategy and consumer package design.
Russ is passionate about health and wellness and has dedicated his life to ridding the world of processed food and sugar consumption. His experience in launching numerous health and wellness brands makes him a valuable asset to Namaste Republic. He wishes only to make people happier and healthier.
Russ' work has been recognized for design excellence by many notable design committees including:
The Society of Art Directors (Houston, New York, Phoenix)
Phoenix Society of Communication Arts (PSCA)
American Institute of Graphic Arts (AIGA)
Copper Quill Awards
Society of Publication Design
International Regional Magazine Association
Western Publications Association
Graphis Magazine and Book Publications
HOW Magazine
Print Regional Design Annual
Communication Arts Magazine
Microliquor Spirit Awards Package Design (4 Gold)
Best of Show Category International Label Awards
Premier Print Awards (5 Gold)
BALI BARE > CHO
Bali Bare is the Chief Happiness Officer of Namaste Republic & a 11-year old high-performing Scholar at the Great Hearts Academy. Bali is a recorded artist, actress with several commercials under her belt (including a Super Bowl Commercial), a few TV shows, as well as supporting and leading movie roles to her credit. Bali is also an entrepreneur beyond Namaste Republic, as she is a patent-holding entrepreneur of the Octopurse & created Bling Tape, a craft tape company. She then is part of Arizona Idol Superstars of the Scottsdale Conservatory, a musical performance group performing at Arizona's Got Talent, and even the stages of Disneyland in Anaheim, California. She has been a regular on the Arizona Morning TV Shows as guest host, segment producer and interviewer. Bali has a big heart as you can see, she has raised money for several charities and people in need. Also, with Bali's leadership, her Girl Scout Troop 691 were awarded with the "Spirit of Philanthropy Award" from the Association of Fundraising Professionals (AFP). Finally, Bali inspired the brand "Namaste Republic" with her commitment to gratitude and desire to spread love, peace, and gratitude. She exudes the values of the company and helped name the company (as shared in the video above). Her role with Namaste Republic is to chose designs, test clothing, pick charities to support, meditate, do yoga, and wear a smile. If you meet her, she will likely put a smile on your face and/or lift your spirit with a free Namaste Republic sticker. She is also working on a Positive Psychology Kids Book Series with her father. The first book is "The Gratitude Effect," a book and journal for kids, and already has a second book in motion called, "The Butterfly Effect." Life is abundant and the future is bright for this 11-year old.
About Partners (and ESG)

Conscious Capitalism
"We believe that business is good because it creates value, it is ethical because it is based on voluntary exchange, it is noble because it can elevate our existence, and it is heroic because it lifts people out of poverty and creates prosperity. Free enterprise capitalism is the most powerful system for social cooperation and human progress ever conceived. It is one of the most compelling ideas we humans have ever had. But we can aspire to even more.
Conscious Capitalism is a way of thinking about capitalism and business that better reflects where we are in the human journey, the state of our world today, and the innate potential of business to make a positive impact on the world. Conscious businesses are galvanized by higher purposes that serve, align, and integrate the interests of all their major stakeholders. Their higher state of consciousness makes visible to them the interdependencies that exist across all stakeholders, allowing them to discover and harvest synergies from situations that otherwise seem replete with trade-offs. They have conscious leaders who are driven by service to the company's purpose, all the people the business touches, and the planet we all share together. Conscious businesses have trusting, authentic, innovative and caring cultures that make working there a source of both personal growth and professional fulfillment. They endeavor to create financial, intellectual, social, cultural, emotional, spiritual, physical and ecological wealth for all their stakeholders.
Conscious businesses will help evolve our world so that billions of people can flourish, leading lives infused with passion, purpose, love and creativity; a world of freedom, harmony, prosperity, and compassion."
Certified B Corporation
Certified B Corporations are businesses that meet the highest standards of verified social and environmental performance, public transparency, and legal accountability to balance profit and purpose. B Corps are accelerating a global culture shift to redefine success in business and build a more inclusive and sustainable economy.
Society's most challenging problems cannot be solved by government and nonprofits alone. The B Corp community works toward reduced inequality, lower levels of poverty, a healthier environment, stronger communities, and the creation of more high quality jobs with dignity and purpose. By harnessing the power of business, B Corps use profits and growth as a means to a greater end: positive impact for their employees, communities, and the environment.
B Corps form a community of leaders and drive a global movement of people using business as a force for good. The values and aspirations of the B Corp community are embedded in the B Corp Declaration of Interdependence.
FABRIC
Established in October 2016, Fashion And Business Resource Innovation Center (F.A.B.R.I.C.) is a 23,000 square foot, 3 story building in Tempe, Arizona that acts as a headquarters for the AZ fashion industry. F.A.B.R.I.C. is made possible by a partnership between the City of Tempe, a non-profit called AZ Apparel Foundation, an apparel manufacturer called AZ Fashion Source and a fashion industry directory and consulting firm called LabelHorde as well as many other tenants and co-licensees who provide fashion business support services. As a trade for use of the F.A.B.R.I.C. building, AZ APPAREL FOUNDATION "gives back" to the community in the form of programs, services and resources that equal the value of the building. LABELHORDE AND ARIZONA FASHION SOURCE provide the expertise, resources, equipment, capital improvements, utilities, maintenance and support funding to the foundation. This unique model enables an emerging fashion brand to find everything they need under one roof to learn, start, grow and stay in Arizona. Inside F.A.B.R.I.C. you will find apparel manufacturing, classes, consulting and design services, sourcing library, fabric store, photo and production studio, co-working offices, maker's sewing studio, event/runway space, classrooms, hair/makeup rooms, industrial equipment, industry experts, and more.
COMMON
COMMON accelerates the launch and growth of businesses that take care of the planet and all the creatures on it.
We are a group of entrepreneurs, consultants, advisors, and investors who accelerate each other's businesses and projects.
COMMON is dedicated to ideas and projects that take care of the planet and all the creatures on it. In the event that we don't think there is a good fit, we'll share why — gently of course.
ESG
Namaste Republic statement on Environmental, Societal, and Governance.
Namaste Republic recognizes that global sustainability challenges, including human rights, resource scarcity and climate change, can result in significant impacts if left unaddressed. In light of these challenges, sustainable global development is of critical importance. By considering environmental, social and governance (ESG) factors in our business activities, we help mobilize capital to deliver sustainable growth and long-term value for society.
As we grow, we are interested in participating in leading sustainable business initiatives and nongovernmental organizations, including:
Business for Social Responsibility (BSR)
CDP (formerly the Carbon Disclosure Project)
Ceres Investor Network on Climate Risk and Sustainability
Climate Bonds Initiative (CBI)
Green Bond Principles
Principles for Responsible Investment (PRI)
Sustainability Accounting Standards Board (SASB)
Namaste Republic's commitment to communities and the environment, highlighting how our business decisions and policies address sustainability opportunities and challenges. We are committed to considering environmental and social issues in all aspects of our business, including how we conduct our own operations. This Policy Statement is the product of extensive dialogue with internal and external stakeholders and is an evolving document that we review annually and update to reflect our strategy and any key developments.